Posts for tag: crowns
By Chestnut Green Dental
December 11, 2019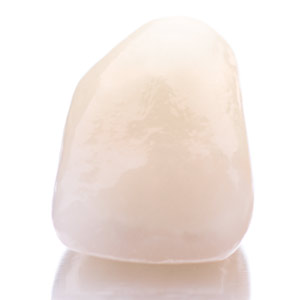 Today's crowns, the visible part of a tooth replacement system, can effectively mimic the shape and color of natural teeth. But not all crowns are equal — so it's best to be well-informed before you undergo a restoration on your natural teeth such as a single crown or bridgework — or if you need a crown on a dental implant that replaces a missing tooth.
To give you a starting point, here are 3 things to keep in mind about crowns as you consider a dental restoration.
Material composition. Most crowns in years past were made of a precious metal, most notably gold. What it lacked in appearance, it made up for in performance and durability. In recent years, dental porcelain has become the popular choice because of its ability to mimic the appearance and translucent color of natural teeth. Today's porcelains are much stronger and are used more frequently for back teeth than in years past. A common recommendation for back teeth is a hybrid crown using metal and porcelain. Metal is incorporated beneath the porcelain in this type of crown to create a strong foundation and is also used along biting surfaces for strength. Porcelain is used in the more visible areas for esthetics.
The dental technician's level of artistry. Most dentists sub-contract crown fabrication to dental laboratory technicians who may have varying levels of experience and artistic ability. A highly skilled technician can produce a crown that blends seamlessly with the patient's remaining natural teeth.
Take a "test drive" of your future smile. Although we as dentists adhere to certain aesthetic principles, beauty is ultimately subjective — "in the eye of the beholder." The final product must meet your expectations and level of comfort. If available, then, consider wearing temporary "trial smile" crowns as a preview of your new smile while your permanent set is under construction. This allows you to "try out" your future smile ahead of time, so you can make recommendations and sign off on the final set before it's finished.
Undertaking any dental restoration is an important life step, both for your health and appearance. Being well-informed — especially about the crowns that you and others will see — will help you make wise choices that lead to a satisfying outcome.
If you would like more information on crowns, please contact us or schedule an appointment for a consultation.
By Chestnut Green Dental
February 04, 2019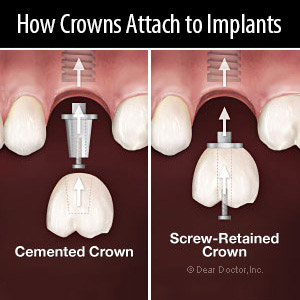 In the realm of restorative dentistry, dental implants are king. A dental implant can replace a tooth with a permanent, life-like restoration with a solid reputation for durability.
Implants are also known for one other quality — variety. Not all implants are alike, and they have varied applications for use. Available in various shapes and sizes, they can be used for a single tooth or as part of a multiple tooth bridge or overdenture. And while their basic architecture is the same, you also have two options for how the permanent crown (the visible tooth portion) attaches to the implant: screwed or cemented.
A screw attachment can securely fasten a crown to an implant without the need for cement; it also allows for easy removal for repair or replacement should the crown become damaged or worn. On the other hand, it could pose a cosmetic problem — even though the access hole for the screw may be covered with a tooth-colored filling, it could still be distinguishable from the rest of the crown. There's also a slight risk of the crown chipping around the access hole.
A crown cemented to the implant won't have this cosmetic issue with an access hole, and will look just like a natural tooth. But unlike a screwed crown, removing a cemented crown can be more difficult. The cement may also cause gum inflammation and potential bone loss in sensitive patients.
The condition of your mouth, the type of implant you're receiving and other circumstances will all factor into determining which method is best for you. If we're "immediately loading" the crown (meaning we're affixing a temporary crown to the implant immediately after placement in the jaw), then the screw method may be more advantageous. Aesthetically speaking, though, a cemented crown may be a better option in terms of final smile appearance.
But whichever method is used, you'll still benefit from what implants do best — help you regain the function lost from a missing tooth and change your smile for the better.
If you would like more information on your options with dental implants, please contact us or schedule an appointment for a consultation. You can also learn more about this topic by reading the Dear Doctor magazine article "How Crowns Attach to Implants."
By Chestnut Green Dental
October 26, 2017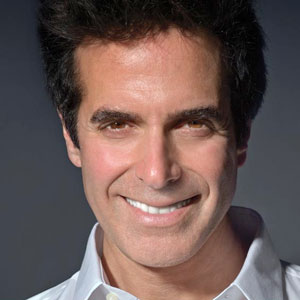 You might think David Copperfield leads a charmed life:Â  He can escape from ropes, chains, and prison cells, make a Learjet or a railroad car disappear, and even appear to fly above the stage. But the illustrious illusionist will be the first to admit that making all that magic takes a lot of hard work. And he recently told Dear Doctor magazine that his brilliant smile has benefitted from plenty of behind-the-scenes dental work as well.
"When I was a kid, I had every kind of [treatment]. I had braces, I had headgear, I had rubber bands, and a retainer afterward," Copperfield said. And then, just when his orthodontic treatment was finally complete, disaster struck. "I was at a mall, running down this concrete alleyway, and there was a little ledge… and I went BOOM!"
Copperfield's two front teeth were badly injured by the impact. "My front teeth became nice little points," he said. Yet, although they had lost a great deal of their structure, his dentist was able to restore those damaged teeth in a very natural-looking way. What kind of "magic" did the dentist use?
In Copperfield's case, the teeth were repaired using crown restorations. Crowns (also called caps) are suitable when a tooth has lost part of its visible structure, but still has healthy roots beneath the gum line. To perform a crown restoration, the first step is to make a precise model of your teeth, often called an impression. This allows a replacement for the visible part of the tooth to be fabricated, and ensures it will fit precisely into your smile. In its exact shape and shade, a well-made crown matches your natural teeth so well that it's virtually impossible to tell them apart. Subsequently, the crown restoration is permanently attached to the damaged tooth.
There's a blend of technology and art in making high quality crowns — just as there is in some stage-crafted illusions. But the difference is that the replacement tooth is not just an illusion: It looks, functions and "feels" like your natural teeth… and with proper care it can last for many years to come.  Besides crowns, there are several other types of tooth restorations that are suitable in different situations. We can recommend the right kind of "magic" for you.
If you would like more information about crowns, please contact us or schedule an appointment for a consultation. You can also learn more about this topic by reading the Dear Doctor magazine articles "Crowns & Bridgework" and "Porcelain Crowns & Veneers."