Posts for tag: dental implant
By Chestnut Green Dental
December 05, 2020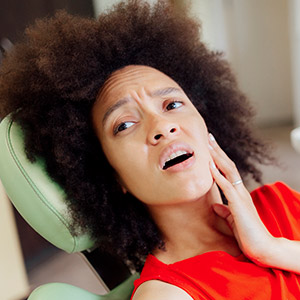 The subject of allergies covers a wide swath in medicine. Among other things, people have allergic reactions to animal fur, various foods and plant pollen. The effects are equally wide-ranging, anything from a mild rash to anaphylaxis, a life-threatening shutdown of the body's vital systems.
Approximately 5% of people are also allergic to various metals including nickel, cobalt, chromium and gold. Reactions to metal can occur when an allergic person comes in contact with items like jewelry, clothing or even mobile phones. There's even a chance of a metal allergy reaction from certain kinds of dental work.
It's unlikely, though, that you should be concerned if you're considering dental treatment or cosmetic work to upgrade your smile. Although allergic reactions like inflammation or a rash have been known to occur with amalgam "silver" fillings, it's quite rare. It's even less of a concern since "tooth-colored" materials for fillings are now outpacing the use of amalgam fillings, which are used in out-of-sight back teeth.
Of course, metal is used for other dental treatments besides fillings, including the most popular of tooth replacement systems, dental implants. An implant is essentially a metal post, usually made of pure titanium or a titanium alloy, which is imbedded into the jawbone. Even so, there's little chance you'll develop an allergic reaction to them.
For one thing, titanium is highly prized in both medical and dental treatments because of its biocompatibility. This means titanium devices like prosthetic joints and implants won't normally disrupt or cause reactions with human tissue. Titanium is also osteophilic: Bone cells readily grow and adhere to titanium surfaces, a major reason for dental implants' long-term durability.
That's not to say titanium allergies don't exist, but their occurrence is very low. One recent study detected a titanium allergy in only 0.6% of 1,500 implant patients who participated.
At worst, you may need to consider a different type of tooth replacement restoration in the rare chance you have a titanium allergy. More than likely, though, you'll be able obtain implants and enjoy the transformation they can bring to your smile.
If you would like more information on allergic reactions and dental restorations, please contact us or schedule an appointment for a consultation. You can also learn more about this topic by reading the Dear Doctor magazine article "Metal Allergies to Dental Implants."
By Chestnut Green Dental
September 26, 2020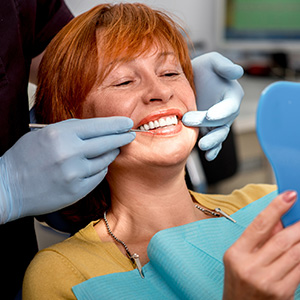 Dental implants aren't simply prosthetic teeth, but rather an innovative system that restores both smile appearance and dental function. And while an implant can indeed replace a single tooth, they can do so much more. Integrated with removable dentures or a fixed bridge, they provide a secure solution to multiple missing teeth.
Implants essentially replace a missing tooth's root, the basis for their lifelikeness and functionality. As such, they're also the most sophisticated restoration used today, requiring a high degree of technical and aesthetic skill to place them properly. In reality, implantation is more a process than a procedure.
If you're considering implants, that process begins with a comprehensive dental exam. During the exam, we'll assess the exact condition of your oral and facial structures like the length of remaining teeth, your bite and jaw dimensions. We'll use this information to plan the type and placement of your implants. The exam may also reveal problems like bone loss that might postpone your implants or suggest another form of restoration.
Using digital technology, we then locate the exact positions for your implants on the jaw to ensure the best outcome. This often results in the creation of a surgical guide, a plastic template placed over the jaw that accurately pinpoints the locations for the drilling sequence during implant surgery.
In most cases once the implants are surgically installed, gum tissue may be sutured over the implant to protect it while it integrates with the bone. In some cases, though, a visible crown may be placed immediately, so the patient can enjoy a tooth-filled smile the same day. This immediate crown, though, is temporary and will be replaced with a more durable, permanent one in a few months.
During this interim, the titanium in the implant post will attract bone cell growth, which will build up on the implant surface. This increased bone contact will help secure the implant fully in the jaw, giving the implant its signature durability.
Once the integration is complete, the permanent crown is affixed to the implant (or implants in the case of a fixed or removable dental appliance). It may have been a long road, but you'll have the closest thing to real teeth.
If you would like more information on implant restorations, please contact us or schedule an appointment for a consultation. You can also learn more about this topic by reading the Dear Doctor magazine article "New Teeth in One Day."
By Chestnut Green Dental
July 04, 2019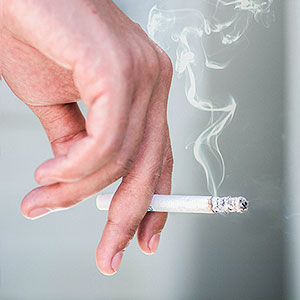 Although costly in the beginning, dental implants often turn out to be the least expensive tooth replacement option. That's because their enviable record for longevity often outpaces dentures or bridges. Over the long-term you might spend less for implants than these other restorations.
But even with the high success rate of dental implants (greater than 95% survive the ten-year mark), we can't guarantee they won't fail. And if you're a tobacco smoker, the risk of failure might be even higher. One study, for example, found early implant failures were twice the rate for smokers over non-smokers. Although implant failures overall are low, smoking seems to be a factor in those that do.
There are a number of reasons to account for this. For one thing, inhaled smoke can damage salivary glands, reducing the flow of this important fluid. Saliva helps control bacterial growth and neutralize mouth acid, so without it you're more susceptible to tooth decay or periodontal (gum) disease. Either infection could ultimately weaken implant-supporting bone.
The nicotine in tobacco can also restrict oral blood vessels and lower their ability to supply antibodies and nutrients to the teeth and gums. This slows healing, which could have one particular effect on implant durability.
During the intervening weeks between implant placement and crown attachment, the implant's titanium post attracts bone cells that grow and adhere to its surface. The effects of nicotine on healing, especially right after implant surgery, can interfere with this integration process so that the implant doesn't anchor in the bone as well as it should.
If you're a smoker, you can increase your chances of implant success—and have a healthier mouth overall—by quitting smoking beforehand with the help of a cessation program. Or at the least, consider stopping smoking for one week before implant surgery and for two weeks afterward.
And be sure to brush and floss your teeth daily and visit your dentist regularly to keep your teeth and gums as healthy as possible. Stopping smoking and practicing effective oral hygiene could make a big difference in the success or failure of your implant.
If you would like more information on smoking and your dental health, please contact us or schedule an appointment for a consultation. You can also learn more about this topic by reading the Dear Doctor magazine article "Dental Implants & Smoking."