Posts for tag: tooth decay
By Chestnut Green Dental
July 24, 2019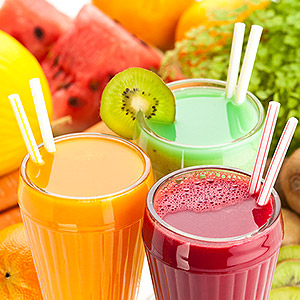 All-natural fruit juice with no additives: now what could be wrong with that? Nothing—unless your child is over-indulging. Too much of even natural fruit juice could increase their risk of tooth decay.
To understand why, we first need to look at the real culprit in tooth decay: mouth acid produced by oral bacteria as a byproduct of their digestion of sugar. Acid at high levels softens and erodes tooth enamel, which causes tooth decay. Acid levels can rise as populations of bacteria increase often fueled by sugar, one of bacteria's primary food sources.
And not just the added sugar found in soft drinks, snacks or candies—even fructose, the natural sugar found in fruit, can feed bacteria. To lower the risk of tooth decay, dentists recommend limiting the daily amount of sugar a child consumes, including natural fruit juices without added sugar.
That doesn't mean you should nix natural fruit juices altogether—they remain a good source of vitamins, minerals and other nutrients. But you'll need to keep your child's juice consumption within moderation.
As a guide, the American Academy of Pediatrics (AAP) has issued consumption recommendations for children regarding all-natural fruit juice. The academy recommends the following daily juice amounts by age:
7-18: 8 ounces (1 cup) or less;
4-6: 6 ounces or less;
1-3: 4 ounces or less;
Under 1: No juice at all.
You can further reduce your child's decay risk by limiting their juice intake to mealtimes, a good practice with any sweetened beverage. Sipping through the day on juice or other sweetened beverages can cause some sugar to stay in the mouth over long periods. This can interfere with the natural ability of saliva to neutralize any acid buildup.
If you're wondering what children could drink instead of juice, low-fat or non-fat milk is an acceptable choice. But the most tooth-friendly liquid to drink is plain water. Drinking nature's hydrator is not only better for their overall health, by reducing the risk of tooth decay, it's also better for their teeth.
If you would like more information on how sugar can affect your child's dental health, please contact us or schedule an appointment for a consultation. You can also learn more about this topic by reading the Dear Doctor magazine article "Squeeze Out the Juice."
By Chestnut Green Dental
June 14, 2019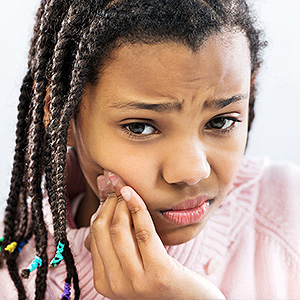 Nothing grabs your attention like a sharp tooth pain, seemingly hitting you out of nowhere while you're eating or drinking. But there is a reason for your sudden agony and the sooner you find it out, the better the outcome for your oral health.
To understand tooth sensitivity, we need to first look at the three layers of tooth anatomy. In the center is the pulp filled with blood vessels and nerve bundles: it's completely covered by the next layer dentin, a soft tissue filled with microscopic tubules that transmit sensations like pressure or temperature to the pulp nerves.
The third layer is enamel, which completely covers the crown, the visible part of a tooth. Enamel protects the two innermost tooth layers from disease and also helps muffle sensations so the tooth's nerves aren't overwhelmed. The enamel stops at about the gum line; below it the gums provide similar protection and sensation shielding to the dentin of the tooth roots.
Problems occur, though, when the dentin below the gums becomes exposed, most commonly because of periodontal (gum) disease. This bacterial infection caused by dental plaque triggers inflammation, which over time can weaken gum tissues and cause them to detach and shrink back (or recede) from the teeth. This can leave the root area vulnerable to disease and the full brunt of environmental sensations that then travel to the nerves in the pulp.
Tooth decay can also create conditions that cause sensitivity. Decay begins when certain oral bacteria multiply and produce higher than normal levels of acid. The acid in turn dissolves the enamel's mineral content to create holes (cavities) that expose the dentin. Not treated, the infection can eventually invade the pulp, putting the tooth in danger of being lost unless a root canal treatment is performed to remove the infection and seal the tooth from further infection.
So, if you begin experiencing a jolt of pain while eating or drinking hot or cold foods or beverages, see your dentist as soon as possible to diagnose and treat the underlying cause. And protect your teeth from dental disease by practicing daily brushing and flossing, as well as seeing your dentist for regular dental cleanings and checkups. Don't ignore those sharp pains—your teeth may be trying to tell you something.
If you would like more information on tooth sensitivity, please contact us or schedule an appointment for a consultation. You can also learn more about this topic by reading the Dear Doctor magazine article "Treatment of Tooth Sensitivity."
By Chestnut Green Dental
January 25, 2019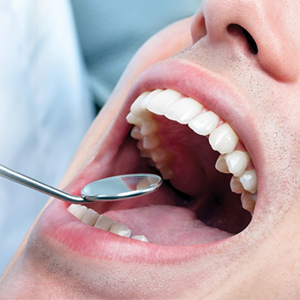 Dental caries (tooth decay) is a leading cause of tooth loss. But with prompt diagnosis and care we can often stop it before it causes too much damage.
The traditional treatment approach is simple: remove all diseased tooth structure and then restore the tooth with a filling. But this otherwise effective treatment has one drawback: you may lose significant healthy structure to accommodate a suitable filling or to make vulnerable areas easier to clean from bacterial plaque.
That's why a new treatment approach called minimally invasive dentistry (MID) is becoming more common. The goal of MID is to remove as little of a tooth's natural enamel and dentin as possible. This leaves the treated tooth stronger and healthier, and could reduce long-term dental costs too.
Here's how MID could change your future dental care.
Better risk assessment. MID includes a treatment protocol called caries management by risk assessment (CAMBRA). With CAMBRA, we evaluate your individual tooth decay risk, including oral bacteria levels, the quality of saliva flow to neutralize mouth acid, and sugar consumption. We then use our findings to customize a treatment plan that targets your areas of highest risk.
New detection methods. The real key to fighting tooth decay is to find it before it can destroy tooth structure with the help of new diagnostic technology. Besides advances in x-ray imaging that provide better views with less radiation exposure, we're also using powerful dental microscopes, lasers and infrared photography to show us more about your teeth than we can see with the naked eye.
"Less is More" treatments. In contrast to the dental drill, many dentists are now using air abrasion rather than a dental drill to remove decayed tooth material. Air abrasion emits tiny material particles within a pressurized air stream that leaves more healthy tooth structure intact than with drilling. We're also using new filling materials like composite resin that not only resemble natural tooth color, but require less structural removal than other types of fillings.
Using MID, we can treat tooth decay while preserving more of your natural teeth. This promises better long-term outcomes for future dental health.
If you would like more information on new treatments for tooth decay, please contact us or schedule an appointment for a consultation. You can also learn more about this topic by reading the Dear Doctor magazine article "Minimally Invasive Dentistry: When Less Care is More."