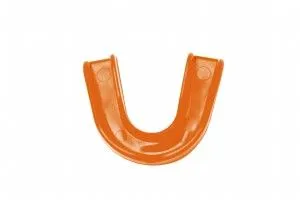 The most prevalent reasons for dental injury are usually because of sports and recreation accidents. Each year, around 5 million teeth are knocked out in sporting activities. While this number is unbelievable, the American Dental Association estimates that more than 200,000 oral injuries are prevented every year thanks to using PlaySafe® sports mouthguards The National Athletic Trainers' Association' newsletter, NATA News, along with the American Dental Association claim that sports athletes are 7x more likely to experience an orofacial injury if they do not wear mouth protection. Individuals of all ages, that are involved with sports and activities where there is a possibility of contact to the facial area, should really safeguard their teeth using a properly fitted mouthguard Why do you really need a mouthguard?
A mouthguard can help absorb and distribute the effect of a blow to your facial area that might otherwise cause a trauma to the mouth or jaw. A custom-fitted mouthguard will safeguard oral tissue from cuts just by protecting the tongue, lips, gums, and cheeks. By acting as a shock-absorbing bumper in absorbing and deflecting the force form an impact,, it will help to protect your brain from a concussion by lessening the impact of a hit to your lower jaw. Lastly, a custom-fitted mouthguard may also help safeguard your jaw joints from dislocation and related injuries by effectively supporting and cushioning the lower jaw against your skull; and in the same way might help prevent a fracture of the jaw by acting as a cushion between the top and bottom jaws.
Dental injuries may lead to lost time from school or work, could be debilitating and facially disfiguring, and may involve time-consuming as well as expensive dental care. The price of and injury to your jaw or teeth far surpasses the price tag on a custom-fitted mouthguard.
Adequate use of a good custom laminated mouthguard (CLM) can reduce the occurrence of orofacial injury such as the one pictured here resulting from an elbow blow to a basketball player.
When should you put on a mouthguard?
Mouthguards really should be worn while playing and training for any recreational activity or sports activity where you have the potential for contact to the face. It is essential to put on a mouthguard while playing football, and in addition while playing other sports where there's a chance of being hit in the head or jaw. These types of sports can include hockey, soccer, basketball, basebell and even skateboarding, skiing, and cycling or biking.
The Academy for Sports Dentistry (ASD) lists over 40 sports where mouth protection would be beneficial to the athletes.
Children in addition as young as 7 years old may be easily fitted with custom laminated mouthguards (CLMs). They too could be seriously injured while playing both organized as well as unorganized (schoolyard and street) sports.
Which type of mouthguard should I have on?
There are a number of different styles of mouthguards on the market ranging from inexpensive, over-the-counter products to expertly custom-fitted mouthguards. All mouthguards are not of the same quality and the key dissimilarities are described below.
Custom-Laminated Mouthguards
Custom-laminated mouthguards (CLMs) are produced by a dentist, who takes an impression and makes a plaster design of your teeth. Customized fitment permits the dentist to precisely evaluate your mouth and offer the correct fitting mouthguard this really is most suited for your sport.
Tests conducted in Germany indicate that:
CLMs offer up to 1000% more protection compared with boil and bite mouthguards.
CLMs can provide 400% to 500% additional protection than a common mouthguard made by the conventional vacuum technique.
The custom lamination production process will allow complete design convenience.
4 levels of protection are offered:
Light protection mouthguards are designed to be very soft and flexible. They are created to be worn by kids and for low-impact sports such as mountain biking and volleyball. Medium protection mouthguards are all-purpose and intended for nearly all club sports (e.g., soccer, rugby, basketball, and softball).
Heavy protection mouthguards are advisable for heavy contact sports which include boxing and martial arts. The most efficient heavy-duty mouthguard is the PlaySafe® Heavy, that includes unique integrated impact dispersion rings.
Extra heavy protection mouthguards will be for the most intense impact sports which include kickboxing and sports which require close-contact utilization of racquets and sticks.
Various other regular options include single or different colors, helmet straps, and personal team names and logos.
Because of its unique structural and design features, better energy absorption, superior impact distribution, advanced materials, and impeccable fit, CLMs can:
Lessen tooth cracks and dislocation, soft tissue lacerations, and bruising.
Provide enhanced tooth edge defense – A unique aspect of the mouthguard is it provides an additional thickness of materials surrounding the weak biting edges on the upper teeth providing further defense against a sudden impact.
Protect against concussion of the brain – The mouthguard is supplied with indents in its biting surface to accommodate the tips of the lower teeth to ensure that in the event of an impact on the bottom jaw it is safely immobilized preventing reverberation of the brain.
Protect against jaw fractures, condyle and facial injuries, and dislocations.
Limit the risk of neck and central nervous system injury.
Provide comprehensive accommodation for partial or complete denture wearers.
Offer higher levels of wearability and comfort.
Reduce interference with breathing and verbal communication.
Protect against mouthguard dislocation or gagging by wearers. Decrease the chance of injury and amount of time spent on the sidelines by players.
Boost the wearer's self-confidence.